A hot meal, Anytime Anyplace™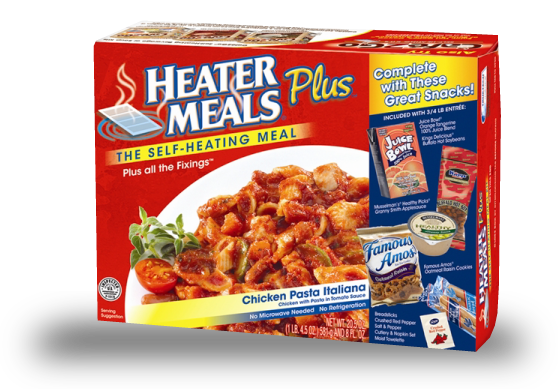 THE ORIGINAL SELF-HEATING MEAL
HeaterMeals® is the Number 1 shelf-stable, self-heating emergency meal and beverage solution.
HeaterMeals® offers extended shelf life feeding solutions that combines with our flameless heating technology to deliver hot meals and beverages in any environment or emergency situation.
HeaterMeals® are used by military, first responders and disaster relief agencies as their 'go to' feeding solution to help safeguard and protect lives.
Please call us at 1-800-503-4483 for wholesale and government pricing.
The comparison
HeaterMeals® offers a wide range of meal kit options that combine with our patented self-heating technology to deliver a nutritious hot meal, any time, any place. Extended shelf life options mean that our customers are ready to deploy HeaterMeals® in response to any situation with minimal storage footprint. HeaterMeals® not only heat themselves but taste great!
More Nutrition
Zero Trans Fats
40-60% Less Sodium
15-20% Higher in Protein and Fiber
Lower in Cholesterol
100% Juice Beverage
More Food
HeaterMeals® Lunch/Dinner Entrees are 12oz
The standard commercial MRE entree is only 8oz
More Options
HeaterMeals offers chicken, beef and vegetarian options that include brand name snacks as well as four breakfast kits with Steel-Cut Oatmeal.
Exceptional Reviews
" I used to order these by the case and take them out on the road with me. I always had a hot meal if I wanted it. LIFE SAVERS! Truckers complaining about not finding a hot meal could really use these right now! "
" This is the Best Emergency Meal for Civilians"
" Great warm meal in the worst situations is always worth 5 stars"