A hot meal, wherever you need it.
We launched HeaterMeals Self-Heating Meals in 1994. Since that time, it has remained a unique food product with a bit of curiosity attached to it. We're often asked by new customers "self-heating meal, what exactly does that mean?"
There are many ways to answer that question, but perhaps the best way is by using our trademarked slogan, A Hot Meal Anytime, Anyplace.
When our company created HeaterMeals in 1994, we knew we needed a way to instantly communicate what the product was about. The idea of a meal that would heat itself without an oven, microwave or fire would surely bring questions.
That's exactly what a HeaterMeals Self-Heating meal does. Our patented self-heating technology heats the 12 ounce entree very efficiently. Once the food heater is started, it only takes minutes to raise the ambient temperature of the food 100 degrees F above the ambient temperature, making a tasty, piping-hot meal.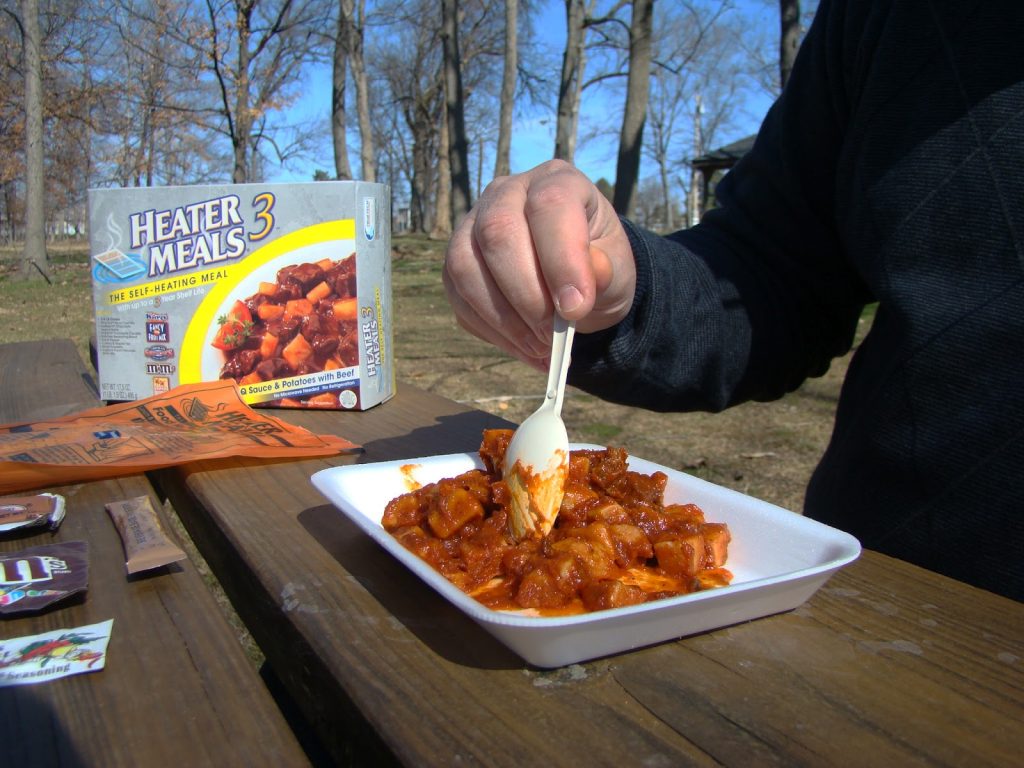 Our self-heating technology is simple and easy to use, and does not require an outside heating or power source, either. You don't have to plug it in, add batteries, put it in a microwave, or place it in an oven. The patented food heater starts when the provided saltwater packet is poured over it. The heater works every time, no matter where it is.
In addition, it's extremely lightweight, weighing less than one ounce, and conveniently packaged with every meal. Our proven-safe food heaters are non-toxic, biodegradable products. After use, the food heaters can be easily disposed of in the trash can.
 This makes HeaterMeals an ideal food for when you're outside of the home, or in a remote area away from modern conveniences, or in a situation without power. In fact, there are a variety of experiences in which HeaterMeals Self-Heating Meals can be used: traveling, outdoor recreation, field use in the military, emergency feeding after a disaster, or as emergency supplies in preparation for a disaster and the list goes on. Simply put, HeaterMeals has multiple uses.
But the one thing all those applications have in common is that they all result in someone enjoying a Hot Meal no matter what time of day it is, or where they might be.
Thus, after considering the many uses for HeaterMeals, our slogan was born:  Enjoy a Hot Meal Anytime, Anyplace.  It's the best answer we have, and it says it all.