HeaterMeals Has Multiple Uses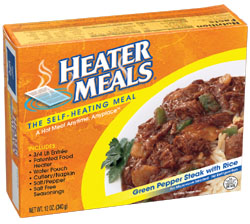 HeaterMeals is a remarkable food product. It can be used in different and varied situations. That's the result our patented, self-heating technology gives; it allows you to enjoy a hot meal, anytime, anyplace. We also give you everything needed to serve the meal, spoon, napkin, serving tray and seasonings in each box.
Whether you're planning to spend time outdoors, enjoying the warm summer weather, the wintry cold, or anything in between, then HeaterMeals is the perfect food to take along. Using our self-heating technology means you won't have to take the time to cook meals or find restaurants. You can heat the tasty, nutritious, 12 oz. entree without the need for electricity or an open flame. Whether you're camping, hiking, boating, or in the stands watching a game, HeaterMeals is the right food to take along.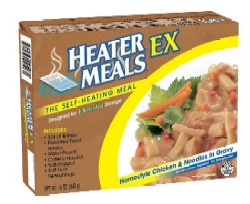 HeaterMeals is not just for recreational activities, though.Being a shelf-stable food product, it is stored by individuals and businesses alike for use during power outages or other emergencies. HeaterMeals EX is ideal for these situations. It can be stored for up to five years, based on the production date and your storage temperature. That means HeaterMeals Ex will be there when you need it.
Reserve and active military units use HeaterMeals, as well. Whether on the base here in the United States, or serving overseas, military units are usually on the go or in training, and are often away from dining facilities. HeaterMeals Plus Self-Heating Meal Kits were designed with the Military in mind. They contain a 12 oz. self-heating entree, three snack items, bread sticks, and an 8 oz. juice drink. That's plenty of tasty, healthy nutrition to keep our soldiers going.
HeaterMeals Plus Self-Heating Meal Kits also include breakfast selections. Hearty Scrambled Eggs and Bacon Slices will satisfy any traditional hunger, while our Steel-Cut Oatmeal Breakfast Kits offer all the benefits of oatmeal in four delicious flavors: Blueberries & Cream, Apple Cinnamon, Maple Brown Sugar and Plain Steel-Cut Oatmeal.
When traveling the open road for long distances, HeaterMeals can come in very handy. Having our self-heating meals along can reduce the need to stop when you're in a hurry, and it's more economical than restaurants. That's why HeaterMeals remains a favorite with truck drivers across the country.
In addition, FEMA, the American Red Cross and other emergency agencies use HeaterMeals after severe weather events or other disasters. Our self-heating technology allows first responders and those affected by tragedy to have a hot meal, at a time when one would not normally be available. Our familiar menu selections, tasty entrees, and hot food often provide victims with a sense of familiarity and comfort. Hot food has a way of settling people, and gives them an opportunity to reflect on their situation, and begin the process of rebuilding their lives.
Fun, preparedness, service, travel and emergency response: HeaterMeals is the ideal self-heating meal for all of these situations. In fact, HeaterMeals is probably used in other ways that we don't even know about!