HeaterMeals Parent Company Offers New Emergency Products
HeaterMeals continues to be the number 1 shelf-stable, self-heating, emergency meal. We are proud to serve emergency First Responders such as law enforcement, fire, HAZMAT teams, FEMA and the Red Cross. Now, our parent company, Luxfer Magtech Inc. (formally Innotech Products, Ltd.), is further serving this group with a new line of Chemical/Biological Response (CBR) products.
In May of this year, Luxfer Magtech Inc. (formally Innotech Products, Ltd.) began selling and distributing CBR kits. For many years, these kits had only been available to the military. These CBR products were designed to keep our soldiers safe during a chemical and biological (CB) attack.  They detect CB agents that might be present at that time, and also identify the CB agents so the proper defensive action can be taken. Identification also aids in the medical treatment for those exposed to CB agents. With the growing emphasis on emergency preparedness by the federal, state, county and local governments, Luxfer Magtech Inc. (formally Innotech Products, Ltd.) has now made these products available to both the military and civilian First Responders.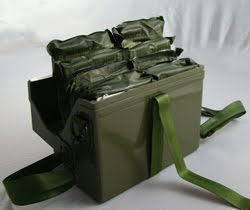 There are eight kits in this line of products.  Five kits detect CB agents, three identify the type of agent present, and one product decontaminates personnel and equipment. There are also training kits available.
The M256A1 is a chemical agent detector kit. It samples a large area for the presence of chemical agents, and identifies the type of agent present. The M256A1 detects the following types of CB agents: nerve (all V and G types), blister (CX, HD, L), blood (AC, CK), Lewisite (L), and mustards (H, HD, HN, and HT).
For detecting dangerous concentrations of vapors, aerosols and liquid droplets, one should use the M18A3. It is used by pointing a detector tube or ticket toward a particular point to sample for CB agents.
M18A3 detects an array of agents: Cyanogen chloride (CK), mustards (H, HD, HN, and HT), phosgene Oxime (CX), hydorcyanic acid (AC), phosgene (CG), lewisite (L), ethyl dichloroarsine (ED), methyl dichloroarsine (ND) and nerve (all V and G types).
The M272 tests for CB agents in water.  It detects and identifies lewisite, cyanide, nerve (all V and G types), and mustard (H) blister agents. The State of California has required HAZMAT teams to carry both the M272 and the M18A3 kits to meet state certification.
M8 Paper comes in a booklet of 25 sheets. The user tears out one sheet to detect the presence of nerve (V- and G- types) and blister (H-) agents. M9 Paper comes in a roll with an adhesive back, much like a roll of tape. When it is fixed to a person, equipment or a structure, it will identify the presence of liquid chemical agent aerosols such as nerve (V- and G- types), and mustards (H, HD, HN, and HT).
The M34A1 is a sampling kit. It is designed to collect liquid, soil, surface, and small solid samples of material that is suspected of being contaminated. The kit also supplies containers for securing and transporting the samples to a lab.
Included in this group of products is the M295. It is a decontamination mitt worn on the hand. M295 can decontaminate personnel or equipment by wiping the mitt over the contaminated surface. The M295 removes the CB agent and absorbs it into the mitt, holding it there for safe disposal.
In addition to the CBR kits, Luxfer Magtech Inc. (formally Innotech Products, Ltd.) is also making available a Sea Water Desalter kit from Van Ben Industries.  This kit treats one quart of sea water by recrystalizing the salt in the water. When drinking the water, it passes through a filter which keeps the crystalized salt from leaving the container.