HeaterMeals Supports First Responders
If there is an emergency, HeaterMeals is ready to help. We've been serving first responders for nearly a decade and a half. HeaterMeals is the Original Self-Heating Meal and, in fact, we were the first such meal used for emergency response. Over that time, we have built a record of service with our customers. That record illustrates our reliability, consistency, professionalism, and compassion. We're there when you need us, and we will answer the phone 24/7/365.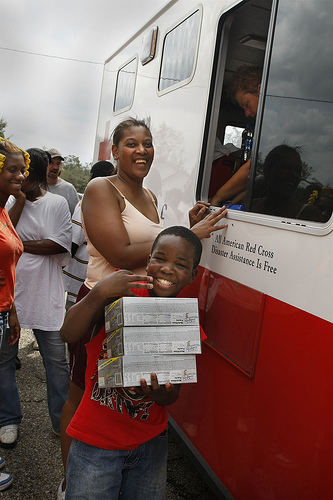 HeaterMeals began serving first responders in March 1997 when the Ohio River flooded its banks. We supplied meals to the Red Cross who were aiding those displaced by the flooding. After that, we continued to supply meals on a consistent basis during severe weather and man-made crisis. Most recently, we sent over a million meals on behalf of the Red Cross to Haiti relief in 2010. Over the years, we've supplied meals to groups ranging from FEMA and the American Red Cross, to state and local Emergency Agencies.
Our commitment to aid those in need after a disaster has lead us to develop a simple philosophy, Be there when we're needed.  It's an idea that permeates every level of the company.
For example, our dedicated warehouse staff has made themselves available on days off to come in and prepare shipments when needed. Our office staff has worked overtime and weekends taking orders and arranging shipping after a crisis. Since disasters don't always happen between 8 am and 5 pm EST, we've established three emergency numbers to provide greater access to first responders. The fact that our philosophy is embraced at all levels can best be illustrated by the fact that one of the emergency numbers rings through to our company president on a 24/7 basis.
We have also developed strategic partnerships with freight carriers and cargo transportation companies that provide us the ability to ship meals at anytime. If you call us at midnight, we can have a truck leaving our Cincinnati facility before dawn breaks. These partnerships also allow us to reach79% of the country's population within 24 hours.
Our commitment to being there when we're needed has made us the Number 1 emergency meal used by emergency agencies. The fact that our meals are Number 1 in proven heating technology, and that they are nutritionally designed for people of all ages, is just icing on the cake.