HeaterMeals Testimonials: Martin R, Arizona.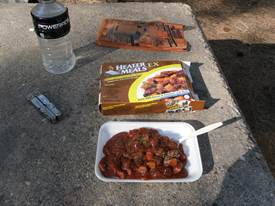 While Martin went hiking at the Coronado National Forest in Portal, Arizona-He backpacked 8,500 feet to reach his final destination. In his pack he had two Zesty BBQ Sauce and Diced Potatoes with Beef HeaterMeals EX, and freeze-dried camping meals. (I need this text to wrap around the image)
I wanted you to know that I enjoyed the meals, the ease in preparation, the completeness of a utensil, napkin and seasoning, the taste and most importantly not having to cook with the drinking water that was hauled in my pack. Martin wrote I also had freeze dried meals, but they did not compare to yours at all in taste or ease in preparation. I wanted to share and express my thanks for a job well done. I hope to go again soon, and [again] hope to have HeaterMeals with me.
–
We're glad you enjoyed your HeaterMeals Martin, and we look forward to accompanying you on your next hiking trip!