We Serve The Military, So They Can Serve Us All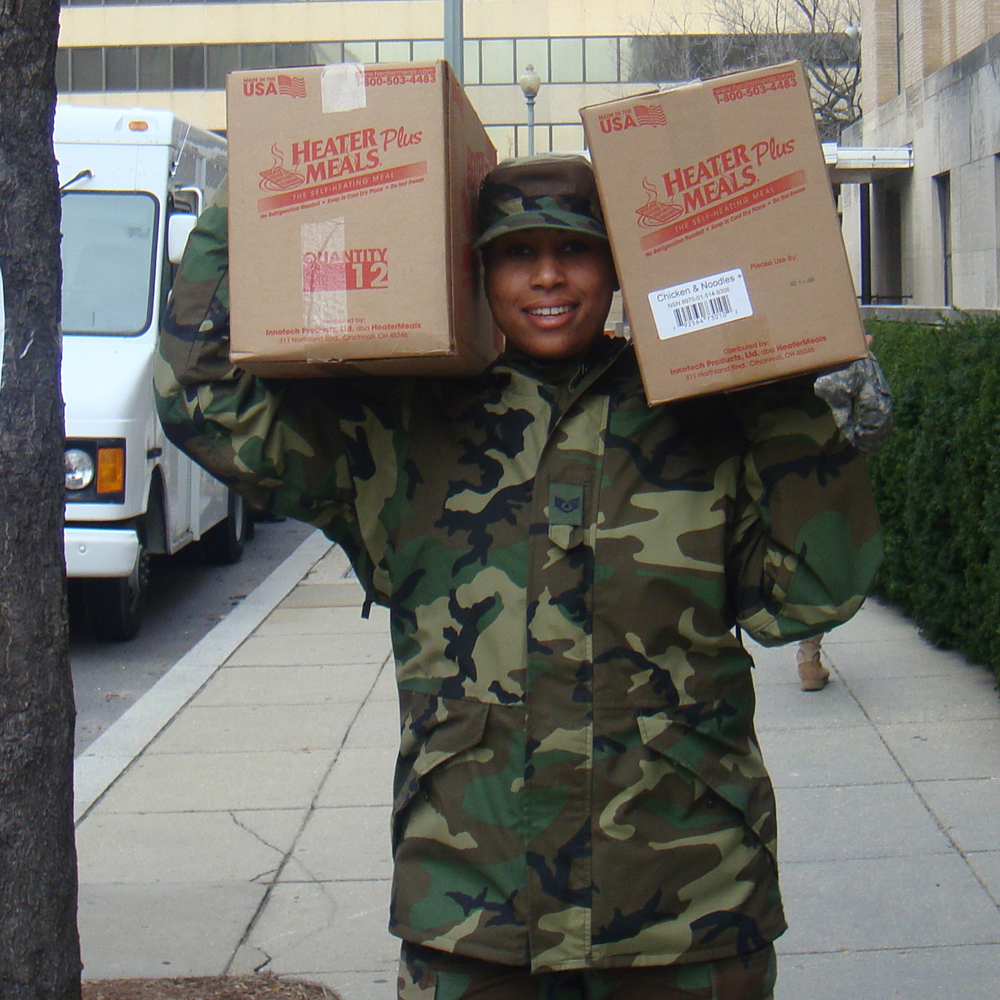 One of the markets that HeaterMeals serves is the U.S. Military.  They are, in fact, our oldest customer group. We've been working with them since 1990.  That's when we first introduced our self-heating technology, known in military parlance as the Flameless Ration Heater (FRH). At the time, it was a new and groundbreaking way to provide a hot meal to a soldier in the field.
Since then, we've partnered closely with the military. We've supplied them with nearly 2 Billion FRHs as part of the Meals, Ready-to-Eat program. In 1994, we launched HeaterMeals Self-Heating Meals, and further developed our partnership with the military when we began serving HeaterMeals to Reserve and National Guard units.
Through our relationship with these units, we discovered there was a need for a meal kit that included snacks and a drink. That led to the development of HeaterMeals Plus Self-Heating Meal Kits in 2000. With five snack items and a 12 oz. drink, HeaterMeals Plus was ideal for replacement foodservice situations such as Troop Movement, Garrison Feeding, Inactive Duty Training, or Field Training Exercises. Our HeaterMeals Plus Self-Heating Meal Kits are a great alternative to catered meals, as well.
In 2012, we updated our HeaterMeals Plus kits to include all new, healthy snack items with a 100% juice drink. We have also added four new, steel-cut oatmeal breakfast kits. These kits also include healthy snack items. The flavors include Apple-Cinnamon, Blueberries and Cream, Maple Brown Sugar and Plain steel-cut oatmeal.
Our objective is to continue to serve the military with great tasting, healthy, self-heating food. We want our Soldiers, Sailors, Marines and Airmen to enjoy a hot meal anytime, anyplace.
Our servicemen and women are special people. They have volunteered to make a daily sacrifice to our country. They're away from friends and family, they put their education and careers on hold, and they place themselves in harms way.
It's this spirit that makes us proud to have served the U.S. Military since 1990. We're honored to have played some small role in their service to our country. We look at it this way: We serve the U.S. Military, so that they can serve us all.